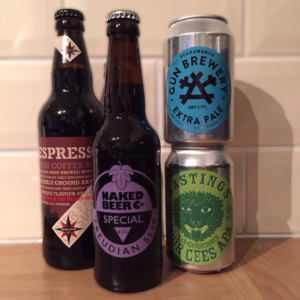 In our second county showcase, we're joined by Rachel Smith from Look At Brew to take us through the best that Sussex has to offer.
We tackle four beers selected for us by Rachel to highlight where the Sussex brewing scene is right now. Embracing modern beer packaging , we have cans from Gun Brewery with their 'Scaramanga' and Hastings Beer Co's 'Four Cees'. We also cover a modern take on a barley wine with 'Freudian Slip' from the Naked Beer Co and an absolute classic from Dark Star in their 'Espresso'.
In addition to all this, we also squeeze in the news, another #hoptopic and one more big box of nothing is awarded in the #prizelessprize.
Keep up to date with what's going on in the Sussex Brewery scene by following Look At Brew where Rachel frequently includes features from Sussex, including some incredible folklore stories!
It's Beer O'clock!
Podcast: Play in new window | Download
Subscribe: RSS