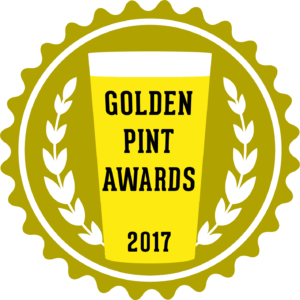 Here we go then, my Golden Pints for 2017…
Best Cask Beer*
Thornbridge 'Jaipur' Served from the brewery bar. Perfect.
Best Keg Beer*
Stone 'IPA' Served from the brewery bar. Perfect.
Best Canned Beer*
Magic Rock 'Cannonball' It's just been perfect this year.
Best Bottled Beer*, Best Collaboration Brew & Beer of the Year 2017*
Time & Tide/Weird Beard 'Call Your Friends' Pretty much the perfect black IPA. Listen to our reaction when we first enjoyed this here. Nothing else came close.
Best Branding
Magic Rock. Those little guys always make me smile. And they've been knocking out of the park with their limited release labelling too.
Best UK Brewery*
Magic Rock. For consistency across all formats, great beer and the best tap room in the UK. Honourable mentions to Buxton, Marble, Thornbridge, Weird Beard & Lost & Grounded.
Best Overseas Brewery & Best Taproom
Stone (Berlin). Firstly, because I lost my shit when this started appearing in Tesco and Morrison's this year, within 2/3 weeks of being canned sometimes. Then having spent a day there in October, enjoying the freshest possible Stone IPA, sealed the deal on both counts. (Honourable mention & UK Taproom of the year: Magic Rock)
Best New Brewery of 2017
Ampersand. We were lucky enough to get sent some beers from Ampersand that we featured on show, I've since bought more of their beers and their first foray into Impy Stout territory was simply stunning. Look out for more from these guys in 2018.
Pub/Bar of the Year
The Alehouse, Chelsmford. The home of the SX Bottle Share and many a night in 2017.
Beer Festival of the Year
Leeds International Beer Festival From what I can remember, it was a pretty good day out and one that remains a favourite of mine this year. Honourable mention to the Alltech Festival in Dublin and Clayfest (which, although not strictly a beer festival involved beer, festivities and meat).
Independent Retailer of the Year
Two Brews , a great little shop in Colchester selling craft beers and coffee. Has come to my rescue a few times this year when the fridge needed restocking. Paul is stocking a great range and getting a loyal customer following.
Online Retailer of the Year
Beer Central in Sheffield, not strictly an 'online' platform but Sean & the team take orders via social media, fill your box and send it to you. For me this a perfect way of ordering the latest beers and the customer service is on point every time.
Supermarket of the year*
Morrison's This year has seen an explosion of great beer available in supermarkets. Morrison's take this, because, New World IPA.
Simon Johnson Award for Best Beer Twitterer*
#CraftBeerHour has become a movement that is easy to engage with and enjoy. Hats of to Tom for the effort that goes into producing this every year. You can also hear what is feels like to host #CraftBeerHour here. Honourable mention to the #TwubQuiz from Myles Lambert.
Best Beer Blog*
Beer Compurgation from Mark Johnson. Must read posts that are to the point that every beer drinking can relate to. Honourable mentions to friends Pete McKerry and Myles Lambert who always write accessible posts.
Beery Podcast of the Year*
Men Beerhaving Badly. 2017 was the year that beer podcasting finally arrived – just check out all of the podcasts you can now listen to from the UK here.  I love the interaction that the guys from Men Beerhaving Badly have and it reminds me of when Mark & I first started the Beer O'clock Show. Honourable mentions for Rhythm & Brews and the NE Sippin Forecast.
*You can listen to our more detailed thoughts on these categories on Hopinions Ep 53
Also, make sure to check out Martin's full list here.