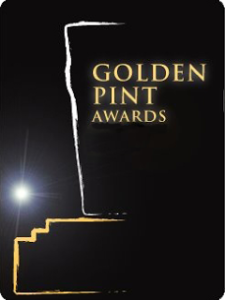 It's  Golden Pints time and this was much, much easier last year. I knew less about beer, I hadn't had as many beery experiences as I have this year and I wasn't a fully fledged craft wanker. So here goes with my Golden Pints…
Best UK Cask Beer
A cheeky one to start – Hackney Brewery's Mosaic TNT which I enjoyed at the Summer Brew Fest. One of the best examples of the single use of this hop in a beer I've tried all year.
Best UK Keg Beer
Easy  – Cannonball by Magic Rock. Every. Single. Time.
Best UK Bottled or Canned Beer
Without a doubt, Thornbridge Halcyon takes the bottle. Camden Town's IHL has it in the can.
Best Overseas Draught
I haven't tried that many as I tend to always go for UK beers. It would be a toss up between Toccalmatto/IMBC Delta Red Disorder and Birra Del Borgo ReAle Anniversio No 9, both of which I tried at Indy Man.
Best Overseas Bottled or Canned Beer
Birra del Borgo/Dogfish Head 'My Antonia' Imperial Pilsner. My first introduction to Italian birrificio and one that I will remember fondly.
Best Collaboration Brew
Adnams/Camden Town 'South Town' – a wonderful red ale that appeared in Adnams casks on a mock beach front at Camden Town Brewery.
Best Overall Beer
Consistently good and one that makes me go back with every batch – Thornbridge Halycon
Best Branding, Pumpclip or Label
Magic Rock's branding still blows me away every time. I'm having kittens imaging what it will look like on cans next year.
Best UK Brewery
Innovation, Passion, Knowledge. Add consistent and quality to those words and it's tough to argue that Thornbridge are leading the way.
Best Overseas Brewery
I had my introduction to Italian beers this year and every beer I tried from Birra del Borgo made me happy.
Best New Brewery Opening 2014
Earlier on in the year I attended the opening of the Dragonfly micro brewery in Acton. Their beers were as impressive as the premises.
Pub/Bar of the Year
Tucked away on the Essex/Suffolk  border and run by a man with a worrying penchant for knitwear, The Swan in Stratford-St-Mary is a place that were in not for the appalling public transport links I would spend many an hour in.
Beer Festival of the Year
Without a doubt Indy Man. Honourable mention for the Summer Brew Fest too which was a great afternoon in the sun.
Supermarket of the Year
Waitrose have a consistently good stock of beers these days, and walked away with this when they put Graham Nelson's award winning beer on their shelves.
Independent Retailer of the Year
Little place where I found a couple of cheeky beers I had been looking for, Beer Gonzo in Coventry.
Online Retailer of the Year
With thanks for their ongoing support – Ales By Mail. More good things to come in 2015.
Best Beer Blog or Website
There are 3 blogs that I really enjoy reading on a regular basis. Honourable mentions to both Chris Hall and Matt Curtis, but edging it for the win (largely due to his recent entertaining beer advent posts) in Justin Mason's Get Beer Drink Beer.
Best Beer App
I only use one – Untappd
Simon Johnson Award for Best Beer Twitterer
Second year in a row for me, and largely down to the #VineDiaries, this goes to Matt Curtis
Best Brewery Website/Social media
It's hard to argue that there's a better execution than what Brewdog do.
It's been another great beery year – here's to even more great beers in 2015, cheers guys!